Information Services: Collection
Specialised tools as used by more than 7,000 funds
Fundsquare collects the full range of data and documents. Our all-inclusive collection services are used by wide range of funds distributed cross border. The data we collect are include:
Fund static data (fund, sub-fund, ISIN, …)
Fund order data (cut off, settlement cycle, …)
Dynamic data (NAV, dividend, tax figures)
Documents (prospectus, annual reports, fact sheets, KIIDs, application forms, corporate actions, …).
Following collection, your fund data are disseminated to a wide audience that includes data vendors, analysts, the financial press, market professionals and investors.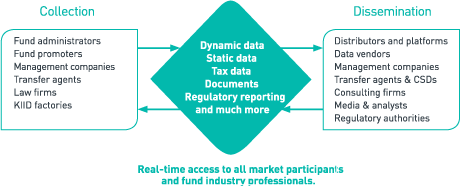 Our objectives for data collection are to:
Maintain a single collection point for many different types of fund data and documents
Simplify collection through standardized tools
Decrease multiple transmissions of the same data
Achieve cost reductions in data administration.
Specialised collection tools
In general, the points of contact for collection of fund information are the fund administrator, transfer agent and the management company and fund. Fundsquare has unique collection tools that permit fund administrators and transfer agents to centralise their activities for transmission of fund information:
Fundsquare Station is the main point of entry for the collection of fund data and documents.
E-file.lu is used for secure transmission and structured communication with the regulatory authorities.
All investment funds that are collected by Fundsquare have access to the full range of dissemination services. In addition, data collected is also made available here.
Quality management
A client-driven Total Quality Management program is fully active at Fundsquare.
Ex-ante and post controls
A zero default / defect target with ongoing improvements
Pre and post implementation service reviews with all clients in the production chai
Escalation point 24/7