MiFID2 Target Market dissemination
Provide regulated information in a more structured way
Are you able to ensure that their distributors are using the right and updated data?
In order to ensure the appropriate level of governance during the sales process of the product manufactured, the information dissemination process needs to be efficiently monitored and documented.
Fundsquare provides a solution to strengthen your funds information dissemination towards all your counterparties, through one channel.
Fundsquare's platform is a communication hub to transmit or retrieve fund information efficiently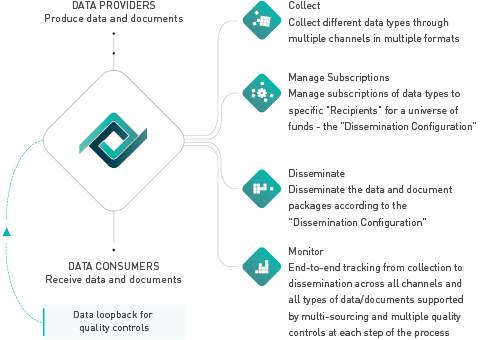 Service features
Counterparts handling
User-friendly interface that allows users to manage their recipients universe through standardised tools and highly automated processes
Data verification
Increase monitoring and quality via a complete and accurate management of your data distribution flows:
- Identification of incoherences
- Unexpected/incorrect information
Data dissemination
Dissemination generates and distributes the data packages based on data events and subscription management events.
Multiple dissemination channels:
- HTML personalized email layouts to your clients
- Personalized xls data templates
- FTP or mail delivery
- Zipped mails
Technical connection
Fundsquare data dissemination fields to Bloomberg, Six Financial Information, Thomson Reuters, Morningstar and many more platforms
Dissemination tracking
Full traceability from collection of data, to events triggering the dissemination, to the disseminated data and the data recipients
White labelling
Unique white labelling solutions that easily integrate data and documents into your websites
Dashboard
Control and monitor processes at every step
For more information, please contact us or visit our dedicated MiFID2 website.