Fund data hub for PRIIPs regulation requirements
Enabling all actors to exchange efficiently KID data & documents
Regulation (EU) No 1286/2014 (PRIIPs Regulation) requires manufacturers of Packaged Retail and Insurance-based Investment Products (PRIIPs) to prepare 'Key Information Documents' (KIDs) for these products before they are made available to retail investors, and those selling or advising on these products to provide the KIDs to retail investors before they buy those products.
The new regulation entails three main challenges for the Fund Industry when servicing the Insurance Industry:
Exchange Fund data needed by multiple PRIIPs manufacturers
Deals with multiple data files and formats
Disseminate the new Key Information Documents
The PRIIPs manufacturers should collect data for all underlying packaged assets in order to produce the required document:
Narrative information
Risk computation information
Cost transparency
The cost and industrialization of KID document production will require multi-sourcing coordinated data collection and technological scalable processes
PRIIPs manufacturers, in addition to the obligation of preparing accurate, fair, clear and not misleading KID, should establish periodic and exceptional processes to review the information contained in the Key Information Document.
To support the Fund Industry, Fundsquare is leveraging on its proven UCITS IV data collection and dissemination processes to deliver an efficient and mutualized HUB for the exchange of PRIIPs data and documents.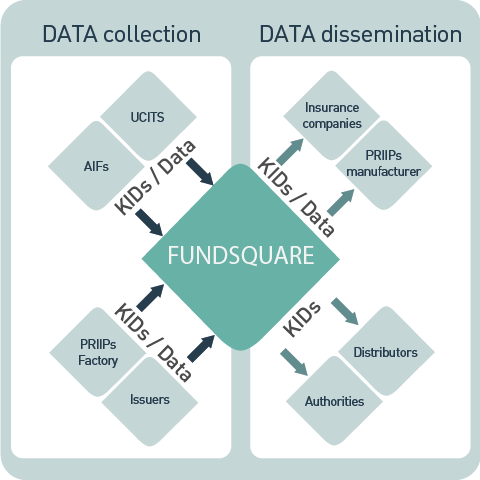 Fund data collection
Data & documents hub enabling PRIIPs manufacturers of insurance products to retrieve KIDs data and documents from Funds KIDs factories and manufacturers.
Service features:
Multi-sourcing & multi-format data collection
Data exhaustivity checks
File transmission with agreed content in a customized format and frequency
Dissemination solution
From the same Information Database, Fundsquare supports KID information dissemination to your counterparties and targeted groups, such as the distribution network of the fund, or to other groups.
Service features:
Information collection from multiple sourcers
Consistency checks and verification
Self-management counterparties lists
Dissemination monitoring and receivers' tracking
Web white labeling solution
Proven and efficient processes for PRIIPs
Fundsquare's platform is today the leading platform for transmitting data and documents.
600 companies using e-file.lu for regulatory compliance
More than 1,5 million KIIDs are transmitted annually
90,000 prospectuses and financial reports
Fund information from 1,500 fund promoters
Feeding data to 110 distributors and distribution platforms
For more information, please contact us.