Secure regulatory transmissions for insurers with the e-file.lu platform
By the end of September 2015, all insurers in Luxembourg will need to notify the Commissariat aux Assurances of their choice of a secure transmission channel for Solvency II regulatory reporting
The CAA has named Fundsquare's e-file.lu platform as an official channel for the secure transmission of reporting between insurance and reinsurance undertakings and the CAA.
E-file.lu is a communication platform for the transmission of data, documents and regulatory and statistical reports between financial institutions (filing entities) and the Luxembourg supervisory authorities. It is today the leading platform for transmitting of regulatory reporting:
500 financial institutions and service providers are already connected to authorities via e-file.lu

More than 1 million regulatory reports are transmitted annually
The Fundsquare solution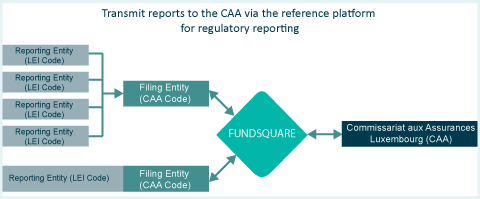 Fundsquare has now added a CAA reporting module to its range of e-file.lu services. This will enable reporting entities in Luxembourg (via their designated filing entities) to efficiently send reports to the CAA.
Next steps